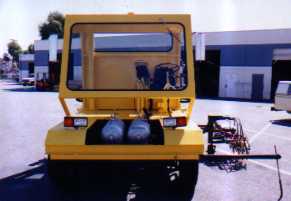 Model TRI-1100 Industrial Duty Self - Contained Highway Line Striping Truck
Standard Features:
120 Gallon Stainless Steel Paint Vat/With Hydraulic Driven Agitators with stainless steel shaft assemblies.
4.2 Liter Ford Carb Approved V-6 Gasoline Engine
Hydrostatic Drive System Capable Of 35 Mph Road Speed
28 CFM Hydraulic Driven Air compressor
Semi Enclosed Cab
Air Suspension Seat Standard
4400 Lb Front Axle
7500Lb Rear Axle
Transmission: Variable Displacement Hydrostatic Motor
2- Titan 9.0 GPM Hydraulic Driven Airless Paint Pumps
4- Automatic Ingresoll-Rand ARO Airless Paint Guns
3-ITW Binks #30 Bead Guns
Hydraulic Pumps: Variable Displacement Hydraulic Pump Manual Servo Controlled, Hydraulic system controlled by Pressure compensated hydraulic piston pump.
35 Gallon Hydraulic Tank
Striping Computer up to 6 gun capability. Computer standard with built-in digital speedometer and footage counter.
Standard front center mounted gun carriage. With Hydraulic gun carriage raising and lowering controls.
Carriage striping guns within 18" of Front axle for precise re-striping
City Of South Gate, CA TRI-1100 LT